Art from Ashes exists to empower struggling youth by providing creative programs that facilitate health and hope through expression, connection, and transformation.
Art from Ashes (AfA) uses a nationally-recognized, award-winning curriculum that encourages creative transformation through the power of artistic expression. AfA is the first youth arts agency in Colorado to use a process of creativity to facilitate personal resiliency and self-determination among high-risk youth age 9 to 24 years old.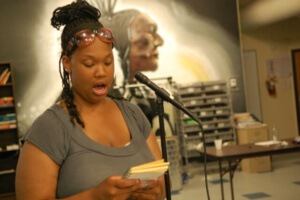 Studies show that factors contributing to juvenile delinquency include a lack of activities for youth that provide constructive developmental experiences; disconnect between youth and adults; and the lack of personal resiliency that results from low self-esteem/self-efficacy. AfA's creative workshops are focused on interactive poetry and art activities that use metaphor to encourage self-expression; offer an opportunity for youth to connect to facilitators, artists, peers and the community; and survey results attest to the powerful impact the program has on positive self-image, reduction in violence, increased community involvement, and interest in academics.
AfA has partnered with 180 youth-serving agencies and schools and provided interactive programs that offer a healthy alternative to destructive behaviors for more than 14,000 young people struggling with abuse and violence, poverty, racism, depression, and low personal resiliency.
AfA's art programs allow marginalized youth to tell their stories through poetry and spoken word (Phoenix Rising) and visual and tactile art (Drawing on Air). Two other youth empowerment programs using drama and creative play (Casting Shadows) and movement and dance (Wingspan) are in development. All of AfA's programs provide a safe, non-judgmental space with caring adults and community artists for youth to share their dreams, hopes, fears and pain, as well as the opportunity to connect with their community, and transform their stories from trauma to self-empowerment.
Sign up for our quarterly newsletter The Ascent here: Get Email Updates
or text ARTFROMASHES (all caps; no spaces) to 22828
Check out previous newsletters here:

For financial and legal information, click here to go to our Colorado Gives information page (you will be directed to a new page; this page will remain open) and/or our Platinum-Level GuideStar Designation page: https://www.guidestar.org/profile/20-0273372 (free membership/login required).