Catherine O'Neill Thorn, Executive Director
Length of Service :: since 2003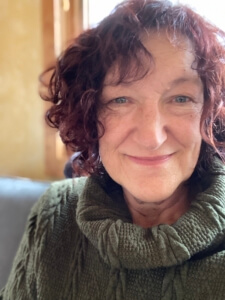 Catherine O'Neill Thorn, she/her/ella, is the founder and executive director of Art from Ashes, an award-winning Colorado nonprofit that provides transformational creative programs for struggling youth. O'Neill Thorn, a member of the National Association of Professional Women, Colorado Prevention Partners Coalition, and the Human Services Network of Colorado, has been conducting poetry and spoken word workshops for youth and adults since 1992 when she developed the Phoenix Rising transformational writing process. She has conducted sessions at juvenile facilities since 1992, including residential and day treatment centers, probation departments, and schools. She established and ran weekly poetry sessions for three years for Columbine students after the fatal shootings in 1999. Participating students gave a public reading attended by international media, and in 2000, O'Neill Publishing produced Screams Aren't Enough, a compilation of Columbine student poetry, which won the Colorado Book Award.
O'Neill Thorn also is a published poet, writer and journalist and was the proprietor of O'Neill Publishing for 12 years (Marketing, Graphic Design and Desktop Publishing). She was founding editor and publisher of Poiesis, a bimonthly calendar and newsletter of poetry events for the state of Colorado from 1992 to 1996. In 1994, O'Neill Thorn established the award-winning weekly poetry series Toads in the Garden, held at The Daily Grind Coffee House in Denver. In 1996, the Colorado Council on the Arts and the Columbine Poetry Society awarded O'Neill Thorn a grant to publish The Poiesis Poetry Guide for Colorado.
O'Neill Thorn was on the founding committee to elect the first Poet Laureate for the state of Colorado since the death of Thomas Hornsby Ferril in 1988. She served as the Colorado Council on the Arts coordinator for TumbleWords, a series of literary events designed to encourage audiences for literature throughout the West, and was a poetry judge for both the 1994 Colorado Book Award and the 2007 Poetry Out Loud national competition among high school students. She was the editor and publisher Inner 303, an arts and poetry magazine for Denver's urban youth, from 1997 to 2001, and the inspirational book/journal for youth Why Keep Tryin'? Voices from the Street (2000).
In 2003, after deep statewide funding cuts to youth organizations and art programs, O'Neil Thorn started the tax-exempt nonprofit organization Art from Ashes in order to continue serving struggling young people throughout Colorado through the arts.
In 2006, O'Neill Thorn was presented with the Community "Artivist" Award by the Pan African Arts Society for "years of consistent commitment to the urban art scene in the Denver Metro area," given to those who work to encourage and support arts education, personal creativity and community engagement. She also is a recipient of Westword's Award for Best Use of Poetry (2006) and Westword's Mastermind Award for Literary Arts (2008). She also received the 2011 Women's Information Network Outstanding Service Award, in 2011 was selected as a "Community Leader" by Beanstalk Foundation, in 2018 was designated a Colorado Creative. and in 2020 was honored with the Bonfils-Stanton Foundation's Arts and Society Award. Under O'Neill Thorn's leadership, Art from Ashes has been awarded the Cherry Creek Diversity Conference Human Rights Award; the American Association of Law Libraries (AALL) Black Caucus Award; the National Arts and Humanities Youth Program Certificate of Excellence (2010); SAMHSA's Service to Science Award (2012); The Denver Mayor's Award for Excellence in the Arts; and has five times been honored by the President's Committee on the Arts and Humanities as one of the top 50 youth arts organizations in the country.
O'Neill Thorn is a seasoned motivational speaker, presenting locally, nationally and in the media on the importance of developing creative ways to foster perception management and whole-brain integration, including the Colorado Juvenile Justice Conference, the National Education Association's Teachers' Conference, the Northern California Psychiatric Associations Conference on Alternative Therapies; the 2011 International Women's Day Conference; and has been a keynote speaker at multiple conferences, including Creative Mornings, which has an international audience. In addition to 20 years of curriculum development and working with more than 11,000 youth through guided writing workshops visual art, and theater, she has worked with hundreds of adults and business professionals, encouraging personal transformation and increased productivity through creative expression.
Return to our team