The annual Celebration of Light at Art from Ashes was an evening full of sparkling lights, heart-warming performances, and even shinier words …not to mention food that was both delectable and abundant.
The evening was not only a celebration of light but a celebration of this community, as supporters of AfA added colorful strokes of paint to a collaborative art piece, took photos in a handmade photo booth complete with props, and participated in a silent auction for homemade pies, art pieces and donated goods from local businesses. Several items were available for donation, from popsockets, to beautiful hand-etched glasses with AfA's logo made and donated by one of AfA's talented volunteers, and beautiful greeting cards and candles created by the youth who attend AfA's workshops.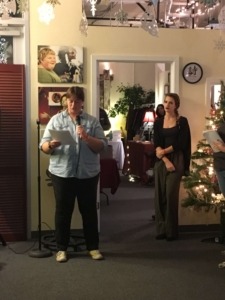 Many of the youth performers have attended our workshops for years and have experienced significant transformation through finding the power of their own voices. One performer proclaimed to the crowd that, "Art from Ashes saved my damn life," which was met with snaps and cheers.
The performances were kicked off by a lively dance to Dominque the Donkey (eeyaw; eeyaw!) led by none other than Catherine, the executive director, and Sarah, the director of programs. Later on in the evening, guest musician Kayla Marque's crooning music with two backup singers offered a beacon of hope to those who struggle in this holiday season. The venue could not have been cozier, as Kayla and her band sat on the floor, and we all gathered around them, friends and strangers brushing shoulders and exchanging smiles. Theo E. J. Wilson, internationally renowned poet and AfA's Board of Directors' Vice President, performed his poetry and inspired us to keep speaking our truth and being our most authentic selves.
If you were lucky enough to attend, we know you also were delighted by the multitudinous array of mac and cheese and other amazing food choices to rival any swanky place in town. All the delectables we ate (and it was A. Lot.) were generously donated by Choice Market, AJ's Pit Bar-B-Q and Lazy Dog.
We are so incredibly grateful to our donors, volunteers, and everyone who attended the Celebration of Light, and the amazing restaurants that donated so much food. We also enjoyed some adult beverages, poured by our very own volunteer coordinator, Bridget, and John, who lends his bartending skills to our events. It's the one thing we do that doesn't include serving the youth! But most importantly, we remembered why AfA and everyone who supports it are here in the first place—to stand with young people on their often rocky journeys and encourage them to recognize their own creative genius. In this way, we hope they will forge an easier path than the one life has sometimes presented them.
If you came to the party and support AfA's youth, THANK YOU. If you didn't, well, you should probably come next year. Sure, we got all that mac and cheese. But more importantly, who could say no to these young souls who inspire so much hope and love in all of us? We'll see you later this year on Colorado Gives Day for our 2020 Celebration of Light!
Local businesses were so generous, we have some extra treats left over from our silent auction. If you're interested in some Valentine's Day goodies, have we got the collection for you! Plus there are a few other cool items available. Check them out here: https://www.facebook.com/pg/Art.from.Ashes/photos/?tab=album&album_id=2761059993939015&__tn__=-UC-R
For those who attended, if you snapped some pictures, please share the fun by tagging @afaphoenix on Instagram or post on Facebook: www.facebook.com/Art.from.Ashes
If you missed our annual letter, you can read it here: https://www.artfromashes.org/2019-annual-letter/