Join us for a celebration of our most dazzling and valued supporters!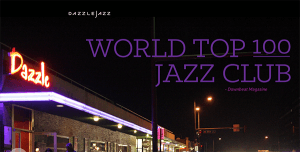 Come to Dazzle Jazz for an afternoon celebration with free appetizers, a cash bar, a silent auction, music by guitarist, Rick Gibbins, and poetry performances from local poetry stars and youth poets! And bring a couple of friends you know will be interested in learning about Art from Ashes — because we are super fun AND our creative empowerment programs change the lives of struggling youth!
It's on a Sunday afternoon, November 30th between 2 and 5 pm… seriously, everyone will be sick of gobbling up turkey by then. Plus there's a silent auction of some spectacular items, and we'll be giving out AWARDS!
Then make a night of it! Stay after the party for dinner and a show. Nationally recognized pianist, Benny Green, will be playing in the dining room that evening. (Tickets sell out, so go get 'em on their website.)
Special thanks to Dazzle Jazz for hosting our celebration and for the support of our generous donors and volunteers. It is because of you that our nonprofit can bring empowerment programs to struggling youth all over Colorado.
We hope to see your dazzling presence on the 30th, so we can celebrate you! RSVP HERE, please! (Unlike our Appaloosa Grill Holiday Party, we have a limit on the number of attendees we can fit in the space.)