VIRTUAL YOUTH & GUEST POET PERFORMANCE!
Log in to listen to the voices of young creative geniuses and a featured guest LIVE on Instagram at 4pm!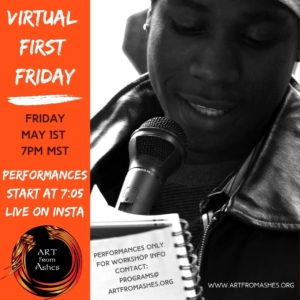 Because of the COVID-19 crisis, our monthly First Friday workshops and performances have been temporarily suspended in favour of a virtual performance on Instagram. For those of you unfamiliar with Instagram, easy instructions are below.
This event features youth spoken word performances by young people ages 12 to 24 tell their stories in metaphor through poems written in only 3 minutes. A guest poet from the community will join the youth to provide encouragement and to promote access to the arts.
Contact our email hidden; JavaScript is required
For Instagram novitiates! How to watch Instagram live:
Use a smartphone (not a tablet or desktop!)
If you haven't set up your own Instagram account, do that
and if you have, log in and search for @afaphoenix 
Click on our profile (If you're not already following us, please hit follow!)
If our logo has circles around it, that means we are LIVE; Click on the logo. (You don't have to hold it down to watch.)
You can also leave us comments (or poems 
email hidden; JavaScript is required" alt=":heart:" aria-label="heart emoji" data-stringify-type="emoji" data-stringify-emoji=":heart:" />) while in our page!