Check out our photos from the event here!
Join us for a special evening of madness and whimsy at Fleur Salon on Saturday, August 20
Brought to yo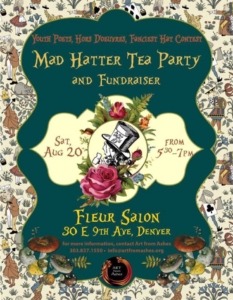 u by Art from Ashes and the amazing youth poets we serve!
Tickets are available HERE! For a $25 ticket you will get FUN and an adult beverage and cookies and cupcakes and poetry and our eternal devotion.
All proceeds will benefit the youth programs of Art from Ashes.
Check out our Facebook event HERE
The 2016 Mad Hatter Tea Party and Fundraiser is hosted by Fleur
Salon and sponsored by Joan Van de Griek, CPA (the best damn accountant in the business!)
We would LOVE to have other business sponsors support out youth programs, either through a tax-deductible business donation or a silent auction item! Please use the contact form below, if you're interested!