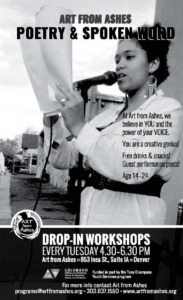 Join Art from Ashes facilitators, other youth from the community, and guest poets for a FREE two-hour poetry and spoken word workshop every Tuesday at Art from Ashes on Inca between 8th and 9th.
Every Tuesday from 4.30 – 6.30; open to all youth ages 12-24.
We'll provide the writing materials, art supplies, pizza and snacks! You provide the creative genius!
Email us if you'd like to let us know you're coming, and if you want to be sure you get some food! 😀
(or just show up — we promise to feed you)