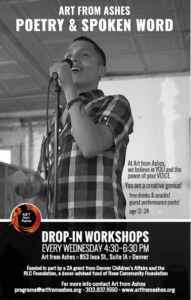 Join Art from Ashes facilitators, other youth from the community, and guest poets for a FREE poetry and spoken word workshop at Art from Ashes on Inca between 8th and 9th.
Every Wednesday from 4:30 p.m. – 6:30 p.m.
While this wordshop is geared toward middle school age youth, all young people between the age of 12 and 24 are welcome.
We'll provide the writing materials, art supplies, food and drinks! You provide the creative genius!
Email us using the form below if you'd like to let us know you're coming or want more information…and if you want to be sure you get some food!
(or just show up — we promise to feed you)