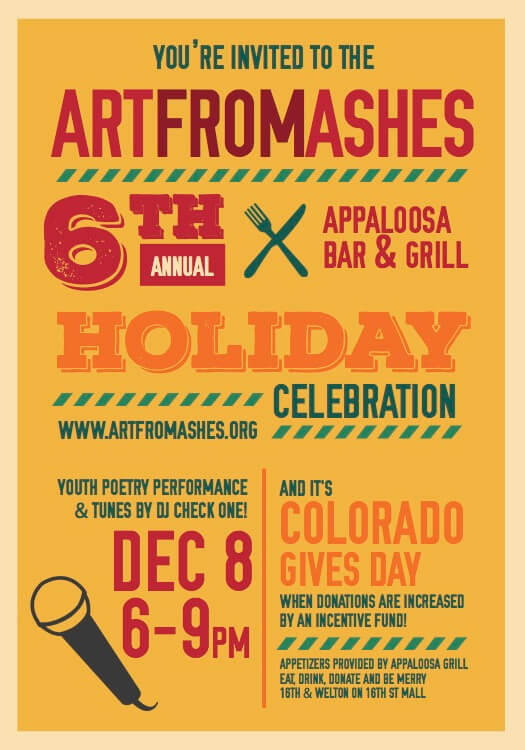 Celebrate Colorado Gives Day and connect with your creative soul and your community at the 6th Annual Art from Ashes Holiday Party at Appaloosa Grill.
You will be inspired by talented local poets as well as the brilliant Phoenix Rising youth poets. In addition to enjoying spoken word performances and tunes by DJ Check One, you can purchase drinks and enjoy delicious complimentary appetizers, courtesy of the great folks at Appaloosa Grill. Proceeds from the event will be used to support Art from Ashes youth programs.
We look forward to seeing you and your friends on Colorado Gives Day, Tuesday, Dec 8 from 6 to 9 pm @ Appaloosa Grill on the 16th Street Mall.
If you would like to RSVP via Facebook, please do so, but it certainly isn't necessary.
If you can't make it to the party, but wish to make a Colorado Gives Day contribution to Art from Ashes, you can do so here, anytime before midnight on Dec. 8th! Just select the button that says CO GIVES DAY when donating. And thank you for helping the beautiful and struggling youth in our commun
ity believe in their value!!