An interview with 20-year-old Desmond Dukes, AfA workshop participant and guest poet

 
by Anna Ingraham
Anna: How did you first get involved with AfA?
Desmond: Well, that's a funny, mysterious story. My friend and I were riding the H-train to 16th street downtown, when we noticed an RTD guy walking up the isle scanning train passes. We didn't pay for passes! So we hurried and exited at the next stop, which happened to be 10th and Osage. I walked around for a little and was drawn in by the Art from Ashes poster. Then, I found out about the weekly art workshops, and have been popping up there ever since. I like to think the universe guided me there that day.
Anna: So it sounds like you've mostly been to the drop-in workshops. What has been your experience with those? 
Desmond: Well, it's really nice having a community of people to come spend time with. All of my family is back in Texas, so having a group of people to create with really helps me to not feel lonely. I love all of the different things we create! I have magnets and banners and paintings throughout my house now that all remind me of AfA. I try to go to both (the poetry and art workshops) as often as possible. 
Anna: I'm glad it's been such a good experience for you! Were you an artist and writer before AfA? 
Desmond: I was an artist and writer before AfA. I was writing stories in English class and looking up words in the thesaurus to find words that better fit the picture I was trying to paint. This translated into my music skills later. Around my freshman year, a friend asked me to freestyle with him, and I found I was actually pretty good! So I went from story writing to eventually poetry and rapping and singing over beats I found on Soundcloud and Youtube. Being in choir and percussion taught me rhythm and helped me to find my distinct sound. 
Anna: How has being a guest poet for AfA been for you?
Desmond: I really like the experience of being impactful to high school kids, because I remember when I was in high school, and I just know how influential a message can be. It's very rare that people can be influential these days, and I know that I can be a positive impact. I want youth to know that they don't have to give in to the social norm. It's okay to love yourself! You can just be yourself, and everything's going to be okay. You don't have to fit in just to get more followers. When you don't have a lot of followers because you're being yourself, those who are following you are doing so because they genuinely like you and care about your work.
Anna: That is such an important message! Do you think that you're going to continue being a guest poet?
Desmond: I definitely think that I will as long as I'm in Colorado. I really like the AfA community, and anything that I can do to be a part of it, I'm more than willing. 
Anna: Do you feel like creating art, writing, and music has helped you embrace yourself more fully?
Desmond: I feel like creation is a way for us to see what our minds look like, and to hear what our thoughts sound like. You don't have to try, everyone just exists in a different way. Creating is a very good way to find yourself as an individual. 
Anna: What do you see yourself doing in the future?
Desmond: Eventually, I want to go to school to become a counselor of some sort. I think that I'm very good at talking to people and observing their problems objectively. I feel like I would be good at helpingkids to see what's causing their problems. A lot of methods these days, instead of finding the root of the problem, kind of just suppress it. I want them to be aware that everything they experience has a reason behind it. 
Anna: It sounds like you're really passionate about this work. Do you think that the arts will continue to be a part of your life as you move towards a counseling career?
Desmond: I feel as if when I do help people with counseling, I'll probably sing to them and help them to bring out their inner voice. I believe that everyone can sing, you just have to find out where your range is. I'll help people to draw, because it's not about if it looks cool, it's about learning about yourself. I think I'll be that kind of counselor and I really feel like I'll effect peoples daily lives. 
Anna: Thank you so much for taking the time to talk with me! We are lucky to have you involved with us at AfA! 
Recently I bought a synthesizer(basically a piano) and a looper pedal, and I've been practicing adding layers on eachother. Eventually I want to get to a point where I perform live with it. I hope you enjoy this recording I did on my phone of a song I'm in the works of orchestrating. Never forget to shine your light☀️
🕯 sʜɪɴᴇ ʏᴏᴜʀ ʟɪɢʜᴛ 🕯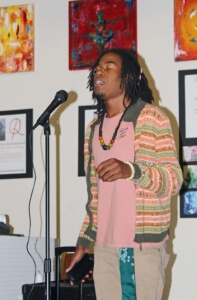 Poem written by Desmond in three minutes:
A SPIRIT OF ONE
In this time day and age of a government suppression
many minds are confused, many people conjure questions
and though they tell you the answer's simple, small, flat, and green
i'm here to share with you it's not as simple as it seems
shoving products in your face to keep you always wanting more
keep you always wanting money, keep you knocking at their door
no it's not a fucking want, its a motherfuckin' NEED
their method of control is individuality and greed
and you think im fuckin' crazy, don't think i know just how i sound?
but if you look a little closer, then these words will be profound
there's no need for feeling empty and no need for feeling down
everything possesses beauty if you take a look around
for the primary function of the universe is love
from the atoms made within us to the galaxies above
all the legs, fins, wings, plants, underneath the sun
all are infinite in unity, all a spirit of one
https://www.artfromashes.org/wp-content/uploads/2018/12/Desmond-Dukes-e1575355294455.jpg
359
719
AfAAdmin
https://www.artfromashes.org/wp-content/uploads/2020/02/AfA-Logo-1.png
AfAAdmin
2018-12-01 14:42:10
2020-01-20 09:27:22
Youth Interview-Desmond