Running of the Gays: Hoofin' it in Heels for LGBTQ+ Youth
Come out and join Denver's LGBTQIA community and Allies as we run toward a better future for youth at the
10TH ANNUAL

Running of the Gays!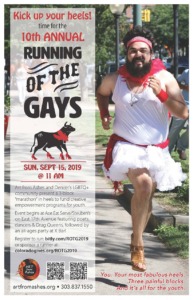 Get yer heels (and ankles!) ready to roll… or strut, or hop, or stumble in a 3-block "marathon" in heels to fund creative empowerment programs for queer youth in the Denver community. The event is organized by Art from Ashes, Denver's LGBTQIA* community and Allies. Each year runners are asked to raise money through sponsorships to trot 3 blocks down 17th Avenue in heels, starting at Ace Eat Serve patio next to Steuben's Food Service followed by an all ages (until 1.30 pm) after party at X Bar!
Proceeds contribute to continuing transformational creative programs for local youth who identify as LGBTQ+. While the event is silly, the statistics for our LGBTQ+ young people are decidedly unfunny: gay and lesbian youth are two to three times more likely to commit suicide than other youths, and 30% of all completed youth suicides are related to the issue of sexual identity; 45% of gay males and 20% of lesbians surveyed reported having experienced verbal harassment and/or physical violence during high school as a result of their sexual orientation; 26% of gays and lesbian youth are forced to leave home because of conflicts with their families over sexual identity. Art from Ashes provides creative programs with proven results that improve self-perception and increase involvement with and connection to the community.
Run a 3-block marathon in heels to help fund creative empowerment workshops for the queer youth in our community! You'll be able to register with a $35 donation ($40 after Aug 15th).
REGISTER TO RUN HERE!: bit.ly/ROTG2019
The fee entitles runners to the ROTG "I brought the gay" t-shirt, a goodie bag, a free Mimosa courtesy of Steuben's, and a foot massage!
Runners are asked to seek sponsorships from friends and family to raise money for the youth programs.
SPONSORS WILL BE ABLE TO SUPPORT SPECIFIC RUNNERS BY DONATING THROUGH FACEBOOK, PAYPAL, GIVINGFIRST, OR WITH A CHECK.
Donate through ColoradoGives: www.coloradogives.org/ROTG2019
Donate through Paypal GIving Fund (100% goes to AfA!): bit.ly/PayPal-AfA
If you are sponsoring a specific runner, please enter their name in the Special Instructions field or by writing their name on your check. Please send checks to 1310 West 10th Ave, Denver CO 80204.
BUSINESS PARTNERS CAN SUPPORT THE MARATHON BY CONTACTING US USING THE FORM BELOW OR BY CALLING 303.837.1550!
So many thanks to our wonderful annual business sponsors. Some have been sponsoring Running of the Gays since 2010! If you're interested in supporting our youth programs, please download our ROTG Sponsor Menu for levels of sponsorship and associated benefits. We love to support community businesses that support creative empowerment programs for queer youth! 
Runners gather at the bullpen at Ace Eat Serve/Steuben's at 11 am to sign in, stretch and enjoy the street show. After Party, foot massages, drag show and silent auction will be held at X Bar from noon to 1.30 pm!
See on our ROTG Facebook page to see the photos from previous years, as well as find out more information.
Thank you to our business sponsors who make the whole thing possible!
Thank you to all those who have "come out" in the past. Re-live the fun here:
https://www.artfromashes.org/wp-content/uploads/2020/02/AfA-Logo-1.png
0
0
AfAAdmin
https://www.artfromashes.org/wp-content/uploads/2020/02/AfA-Logo-1.png
AfAAdmin
2019-06-14 17:58:17
2019-08-25 18:14:51
Running of the Gays 2019