Spotlight: Interview with Hibaq Osman, Youth Extraordinaire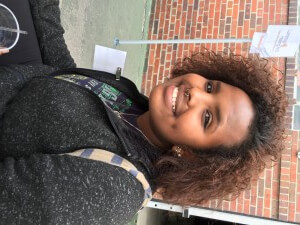 by Beatriz Tamariz, Volunteer
I sat before a singular young lady. In fact I'd heard so many facilitators speak wonders about Hibaq, her presence made me nervous. We met at a coffee shop near her home in East Denver and quickly covered the basics. Hibaq is a 17 year old who not only exudes confidence but a strong sense of self. She informed me she attends Compassion Road Academy, an alternative school. Hibaq didn't flinch when she told me she'd been kicked out of her former High School in 2014. Later, I would understand Art from Ashes taught her no flinching is necessary.
Hibaq became involved with Art from Ashes (AfA) in April 2015 after enrolling for the Phoenix Rising workshops at Compassion Road. "The Spoken Word workshop just seemed cool!" she said. Hibaq related she grew quite enamored with the program and the facilitators. Ashley was the lead facilitator for the workshop, and Franklin was there when Ashley wasn't. Hibaq went on about how she loved everyone at Art from Ashes; Johnny, Morgan, Catherine, and so many other names I couldn't keep up.  She stated Franklin has turned her on to Yoga. He encourages her to kick off her shoes and do spontaneous yoga stretches at the mention of a rough day. Hibaq stated Angela, another AfA facilitator, is currently coaching her on memorizing her poems. These are the people who helped her see what she was capable of accomplishing—who helped her see her full potential. Hibaq added she also has made a lot of friends her own age through AfA.
Hibaq unwaveringly continued telling me about her story. She said she has been in and out of treatment facilities for the past THREE YEARS. I tiptoed around sensitive issues but she, on the other hand, stood tall and told the truth. She is a recovering drug addict: cocaine, molly, acid, everything but what she referred to as "the hard stuff." She would develop mental disorders due to her drug use as well as engage in self-harming behavior. I jotted down that she had been exceptionally abused by her uncle from the age of 4. Immediately after I wrote that, Hibaq noticed and corrected me: "sexually abused, not exceptionally abused."
I was perplexed at her nonchalant demeanor. For a second I wondered how this SEVENTEEN YEAR OLD was so strong, so confident, so solid in her speech, and stature. She went on to explain that AfA was a major part in helping her see herself as a person.
"Art from Ashes made me feel like I could say things and be heard, as well as be happy without being high. I feel like my opinion is heard; like I matter." AfA offers Hibaq guidance and shows her there are people who actually and genuinely care. Hibaq explained the program not only provides her with a support system but also offers a powerful coping tool: WRITING. Hibaq has always liked to write but wasn't inclined to do so on a daily basis until she became involved with the agency.
"I turn to writing and everything feels better."
Hibaq is compelled to use a pen rather than drugs these days. She told me AfA provides free journals to participants, and she fills them so quickly she requests one about every other week. She jokingly stated she was going to bankrupt the program because she writes all the time now. Hibaq writes about eating disorders, human rights, her traumatic past, drug addiction, self-harming behavior, women's rights, unhealthy relationships, and just about anything she has an opinion on. She told me she is passionate about art, music, poetry, self-awareness, the universe, and what is going on in the world, and she attributes her self-awareness to what she's learned at AfA. Hibaq touched on the writing prompts used and stated, "The brain is 2-dimensional but thoughts can be multi-dimensional. The concepts your brain comes up with are completely insane! The prompts trigger your brain, and have the power to change your perspective on things."
Hibaq also worked for AfA as an intern from June to December of 2015. Her therapist let her know about the Governor's Summer Program, which offers an opportunity to be employed and stay out of trouble for youth with criminal charges. AfA, in conjunction with the state-funded Governor's Summer Program, made this possible. Hibaq enjoyed working for AfA, and said she is glad she was able to do so even through her recent relapse which saw her in rehab once again, because the people at AfA were there to support her recovery. Hibaq's employment program with AfA has ended, but she still remains actively involved in the program.
Catherine O'Neill Thorn, Art from Ashes Executive Director, recently asked Hibaq to be a guest poet for the workshops as well as train to be a facilitator. Hibaq is exceptionally excited about being a facilitator because as she put it, she looks up to the facilitators, so to be one is something she has only dreamed of. Hibaq is also looking forward to joining the Board of Directors as a Youth Representative. Through this role she would be giving her opinion on behalf of the youth as it relates to the agency's mission. Remember, this is a 17 year old we are talking about!
I recently saw Hibaq's memorable performance at AfA's 2015 Colorado Gives Annual Fundraiser where Hibaq, my son, and several other youth fearlessly and openly performed in front of a crowd of about 80 people. Hibaq has also performed for the Denver City Council as a result of being involved with AfA. Hibaq never would have done that if it weren't for AfA.  She explained her family is Somalian. Culturally, women are expected to be meek and quiet. Hibaq stated she used to be shy about her opinions, but today she is compelled to share her views and feels empowered to do so.
The more we conversed I could see that Hibaq could not contain her enthusiasm and spark when she spoke about AfA. She erupted in excitement when she told me about Lily Fangz, a local rapper, who is one of the 30 or so guest poets at AfA. "She gives me hugs and she knows me now!" she said.
I asked Hibaq to describe the program in one word and her response was "EMPOWERING!" Hibaq stated AfA and its people are her EVERYTHING. She concluded, "They touched my heart."
Hibaq is the true definition of Art from Ashes.
ADDENDUM: Because we met at a coffee shop, it was a public setting. One person asked what we were doing, since we seemed so passionate. We explained and he provided me with a business card and a sincere request for information about the program. Really, this is what Art from Ashes does to people!
Paper Moon
by Hibaq Osman, 17
Under the paper moon
She thinks she has the basics
But then a demon grabs her dreams
And makes a break for it
It's a simple equation
Dreams and creation
I'm in love with the person I haven't me
And that one place I've never lived
Please tell me how you can lead a life of 17 years and never live
Chained to a chain link fence
Woven by the hearts which you've torn from their place
It's not a 'whatever you think it is,' darling It's an arms race
And I swear, I scream at the top of my lungs
I swear
I will make a change to this world
I will change the voice of freedom
Bestow power amongst the girls
And I'll make it to where color doesn't matter
And race is just a four letter word
Where being queer is not weird
Where homophobia is absurd
Where society links arms with the misfit toys
And welcomes them to their island
Where the raped girl doesn't cry when she sees her young boy
Because she wished his father's actions didn't define him
I swear
These faulty pieces do not define us
I swear the skies are so clear on the other side
I swear the sun will wake you up from this nightmare
And say "It's okay honey, you don't have to hide.
You're absolutely fine right by my side"
https://www.artfromashes.org/wp-content/uploads/2020/02/AfA-Logo-1.png
0
0
AfAAdmin
https://www.artfromashes.org/wp-content/uploads/2020/02/AfA-Logo-1.png
AfAAdmin
2016-01-31 18:26:02
2016-02-02 17:23:18
HIBAQ