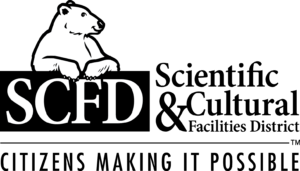 Art from Ashes has received grants from the Denver County Cultural Council, the Adams County Cultural Council, the Arapahoe County Cultural Council and the Douglas County Cultural Council to support workshops in those specific counties in 2018.
Thank you to the citizens of the SCFD counties who voted to continue SCFD funding!  See below for how much your decision to spend 1/10th of 1 penny impacts Colorado!
The Colorado Business Committee for the Arts analyzed the economic impact of arts organizations assisted by SCFD funding:
Economic activity: $1.8 billion
Cultural tourism: $367 million; capital expenditures: $55 million; federal grants: $90.8 million
Total jobs: 10,731 (This covers a broad array of positions, from curator to accountant to zookeeper to jazz teacher)
Total payroll: $165.2 million
Total seat sales and payroll taxes: $19.8 million
Total contributions: $176.4 million
Total attendance: 13.9 million (The average metro resident had 4.5 art experiences in 2015.)
Total outreach to children: 3.9 million
Total volunteers 42,415 (Hours spent volunteering reached 2,031,073.)
SCFD distributions: $53.2 million.
-Sonya Ellingboe, Castle Rock News-Press
https://www.artfromashes.org/wp-content/uploads/2020/02/AfA-Logo-1.png
0
0
AfAAdmin
https://www.artfromashes.org/wp-content/uploads/2020/02/AfA-Logo-1.png
AfAAdmin
2016-12-04 13:01:52
2017-08-07 09:22:43
SCFD Grants